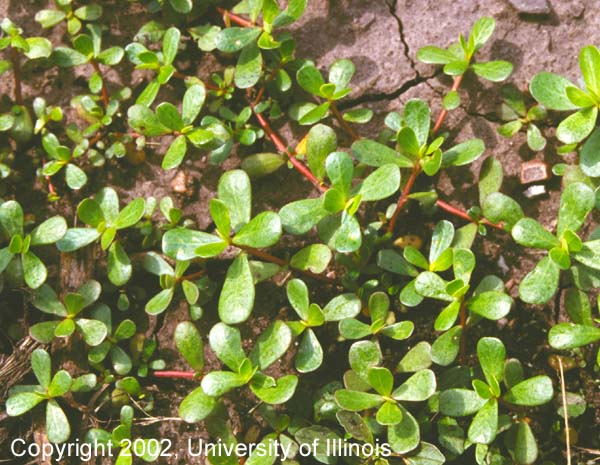 My favorite purslane reference is from Henry David Thoreau, who wrote:
"I have made a satisfactory dinner off a dish of purslane which I gathered and boiled. Yet men have come to such a pass that they frequently starve, not from want of necessaries, but for want of luxuries."
I recently discovered that Thoreau also wrote about aronia during his stay at Walden Pond. He didn't like the tannic berries, but they led him to philosophize that everything in nature was not made for humans' pleasure. (Too bad he didn't know about my sister Teresa's aronia jam and smoothies!)
But he did know about the goodness of purslane, as many of our Mexican, Indian, and Greek customers also do. They always snap it up, even as others do a double-take, and ask, "Isn't that a weed??"
Strange how something so nutritious and delicious, a staple of so many cuisines, could come to be known as a weed. Purslane originated in India, and is reputed to have been Gandhi's favorite food. Now it is "cosmopolitan," meaning it grows all around the world, including at Henry's Farm. Part of the reason for its evolutionary success is that a single plant can produce up to 52,300 seeds. What's more, purslane seeds can survive for up to 30 years in undisturbed soil, guaranteeing us good nutritious food long after peak-oil causes industrial agriculture as we know it to fade and die.
Purslane may be common, but it is uncommonly good for you. It tops the list of plants high in vitamin E and an essential omega-3 fatty acid called alpha-linolenic acid (ALA). Artemis Simopoulos, co-author of The Omega Diet, says purslane is the richest known plant source of ALA. In addition, purslane provides six times more vitamin E than spinach and seven times more beta carotene than carrots. It's also rich in vitamin C, magnesium, riboflavin, potassium and phosphorus.
If purslane is a weed, then it is, as Henry says, "a lovely weed." Unlike foxtail and other grassy weeds, it grows low to the ground, does not compete with the vegetables for sunlight, and makes a gorgeous carpet underneath the heads of lettuce and other crops, keeping the ground cool. This week we'll not only have purslane in the salad mix, but in big bunches as well. You can use it raw in salads or sauteed as a side dish. In addition to the crispy texture you would expect from a succulent, purslane also has a slightly lemony and peppery flavor.
Purslane Salad
2 or more bunches purslane, washed
Yogurt -- enough to cover purslane leaves
Garlic – as much as you want, minced
salt and crushed red pepper flakes, to taste
a few drops of olive oil
Mix the yogurt, salt, pepper, olive oil and garlic in a bowl. Add the purslane. Stir lightly and serve.
Cucumber-Purslane Yogurt Salad
5 large Cucumbers, peeled, seeded and cut into quarter-round slices
1/4 pound Purslane (1 or 2 bunches), washed and drained well
2 tablespoons or more each: fresh chopped mint, cilantro and red or green shiso
4 cups Whole milk yogurt
1/4 cup Virgin olive oil
3 cloves Garlic, puréed with the blade of a knife
2 teaspoon ground Coriander
kosher Salt and ground Black Pepper
Place the cucumber, purslane and herbs into a large bowl. In another bowl, stir together the yogurt, olive oil and garlic, coriander and season to taste with salt. Add the yogurt mixture to the vegetables and mix well. Add a pinch of ground black pepper. Taste the dressed cucumber-purslane salad for seasoning, adding a little more salt if needed. Serve chilled.